Deciding on the correct size of breast implants used to be a very difficult process.  Now there is a great solution.  Previously, we would take measurements of your breasts, get a rough idea of what you are looking for, and then have you select from a few test implants.  The sizes were widely spaced and fine tuning was difficult.  I have had patients who, despite careful planning, have chosen to have a second surgery to change the size.  So we found an alternative.
The new MENTOR® Volume Sizing System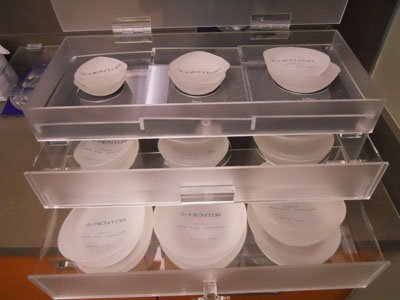 Mentor, one of the 3 breast implant manufacturer's in the US, has come up with a very clever and complete system that allows the patient to carefully select from a large variety of implants and select exactly the size that they would like.
According to Mentor:
The Sizing System includes a set of 18 uniquely shaped volume sizers, (nine per breast) and provide a realistic preview of the breast size.
Using the Sizing System, you will be able to simulate 24 different volumes, ranging from 150cc-775cc, and help your patient feel more invested in and satisfied with her size decision.
So how does this work?
The process couldn't be simpler. You just schedule a time to use the sizing system (that way you can be assured that you can privately use the room and system for as long as you need). You then bring the bra that you would like to fit into, or even a selection of bras that you are interested in, and then put it on. You can then select one of the major sizes and insert it over your breast (it is curved on the inside) and into the bra. Once you have the rough size selected you can fine tune your selection by adding some simple add on pieces (cutely called cutlets) over the main implant sizer until you are satisfied. And if you start off with two different sized breasts - which most women have - you can select different sizes for each side.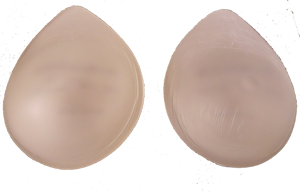 I think this is a wonderful tool!
What a great idea. You can take your time and try some different looks and decide exactly how you would like to look. If you are curious, you can play around with larger sizes even if you have no intention of going big. And if you are petite you can see how much different you look even with a smaller implant. You can also get a rough idea of how much the implants will weigh and how it feels to move with a larger bust.

So indulge your curiosity. Whether you are certain you are going to have breast implants or if you are just curious, this system is an ideal way to try out a new you!